Hull and East Riding Wildfowlers' Association (HERWA), was founded in 1953 by Arthur Leek and other like minded wildfowlers in response to growing concerns about wildfowling on the Humber Estuary.
Problems with foreshore access and unfounded critiscisms concerning pressures from wildfowling upon the resident and visiting wildfowl populations on the Humber prompted Arthur Leek to form an association of wildfowlers. Urged on by Stanley Duncan, (founder member of the Wildfowlers' Association of Great Britain and Ireland, WAGBI), Arthur set the wheels in motion.
A number of willing volunteers soon produced the first officers of the new association. With Trevor Field as the first President, Frank Mason as Secretary , Dr Vincent Walsh as Chairman and Arthur Leek himself as Treasurer, the Hull and East Riding Wildfowlers' Association came into being.
From the first meeting in the Young Peoples Institute (YPI) in George Street in Hull in January 1953, the Club has gone from strength to strength. In the Club's first year, Stanley Duncan, the founder member of WAGBI (1908), was made an honorary life member of the HERWA, the first in its history. Other famous wildfowling names with close associations to the club include Peter Scott and 'Kenzie Thorpe.
There have been many achievements and highpoints in the Association's 65 year history, not least the Association hosting the WAGBI diamond jubilee dinner in 1968 with HRH The Duke of Edinburgh in attendance.
When WAGBI became the British Association for Shooting And Conservation (BASC) in 1981, HERWA was granted the prestigious honour of carrying on the WAGBI badge so recognisable by the 'golden goose'.
In 1983 the Association aided BASC, to set-up an exhibition at the Town Docks Museum in Hull to celebrate '75 years of wildfowling' – a tribute to the late Stanley Duncan.
The Association has the distinction of shooting over the same foreshore as Stanley Duncan and has leased sporting rights at Sunk Island from the Crown Estate Commissioners since 1967. The 'Black Hut' where the ideals of WAGBI were formulated stood close to Outstray Farm by Winestead Drain on Patrington Channel. The Association, in conjunction with the BASC built a monument to Stanley Duncan and the 'Black Hut' at its original site as part of the BASC 40th anniversary celebrations.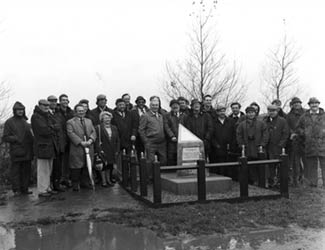 Association members at the site of the 'Black Hut' during the commemoration of the monument to Stanley Duncan.

In 2011 the Association purchased "Roaring Emma" a double barrelled 8 Bore wildfowling gun from John Humphreys before his death. John "wanted it heard on the Humber marshes". The gun was once owned by James Wentworth Day and was built around 1870 by celebrated London gun maker Joseph Lang. Roaring Emma is regularly used by wildfowlers on the Estuary in accordance with John's wishes.
In 2017 HERWA was one of the Founder Members of the Association of UK Wildfowling Clubs (AUKWC).
In 2018 the Association celebrated it's 65th Anniversary.